>> Naturalist Notes & Musings:
Summer is almost here and we are gearing up for another round of our summer program. Each year we try to offer an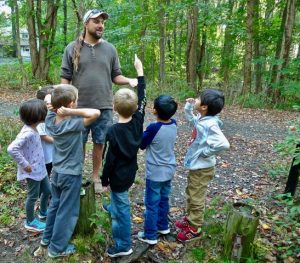 exciting and affordable science-and-fun-filled outdoor experience for 4- to 14-year-old's. We have two classrooms:one is the Nature Center cabin, and the other is the outdoors: our 136-acre nature center forest accented with 2 ponds and 2 streams! Our main goal is to get kids outside and to get them excited about science and nature. Each week is different, but some of our favorite activities include canoeing, stream walks, animal feedings, treasure hunts, pond scooping, and math (just kidding - no math!). One of the things that really makes our summer program shine is our teenage volunteers. They have all come here for years, and know the trails, know the animals, and - unfortunately for them - they know all my corny jokes too! We look forward to another wonderful summer and invite all returning and new kids to join us for some outdoor science fun!
Visit our website, www.closternaturecenter.org,  for info on how to get involved.
See you on the trails!
Marc Gussen, Naturalist