Fishing Pads
Three New Fishing Points For Pond Fishermen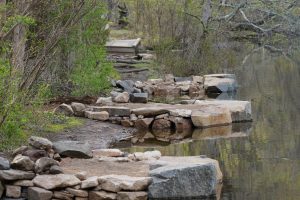 (The following was written by Tom Golodik, Closter Nature Center Trail Chairperson during construction of our new fishing pads)
Walkers around Ruckman Pond at the Closter Nature Center may be wondering why nine new large stones have been placed just off the shoreline on the side of the pond across of the Center's cabin.  The stones are a part of a realignment of the Mayer Loop and will offer several wide open places for local fishermen.
The loop trail had run along the edge of pond there, but following the dredging of the pond bottom a number of years ago, some of the vegetation lining the shoreline along that area was lost.  This resulted in the path, which had been fairly level and easily walked, eroding to the point that it was dangerous to walk there when the ground was wet or muddy. 
The Center's board of trustees decided that the best way to address the slippery conditions was to close sections of the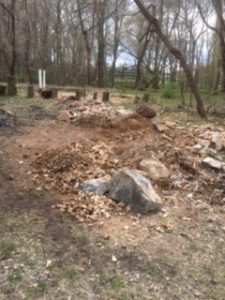 trail along the pond and move it ten feet inland.  While construction of the new trail has begun, closing the path along the waterline and the slippery and muddy conditions typical of that stretch of the trail has presented access problems for fishermen.
Thus the placement of the new granite stones which will form the foundation of three separate fishing pads that will give water access to  the new trail where it passes through the forest.  Work on the delivery of the stones and their placement was possible thanks to Todd Bradbury, of Bradbury Landscaping of Closter.  Todd graciously provided the Center with much time and expertise—sourcing the stones, arranging for their purchase from the supplier, trucking them to the site, and providing and operating  the excavator that moved them into position—all of this done within one week of beginning the project with ice on the pond and snow on the ground.
We asked Todd to locate the stones for the pads further out in the water than the original shoreline.  This will mean that fisherman will now have much less vegetation to contend with when casting and make it less likely that fishing lines will get tangled in surrounding trees and brush, particularly dangerous to our avian visitors requiring naturalist Marc Gussen to remove the tangled lines regularly.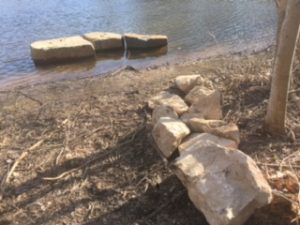 The next phase of work for the pads is the placement of stones donated several months ago by Gary Wiggers Construction.  These will be installed between the high point of the shoreline and the granite boulders to provide access to the pads without the need for fishermen to get  their feet wet.  This phase will require volunteers sorting stones, moving them to the shoreline and building up the necessary stone surround that will retain the crushed stone that will finish it off.