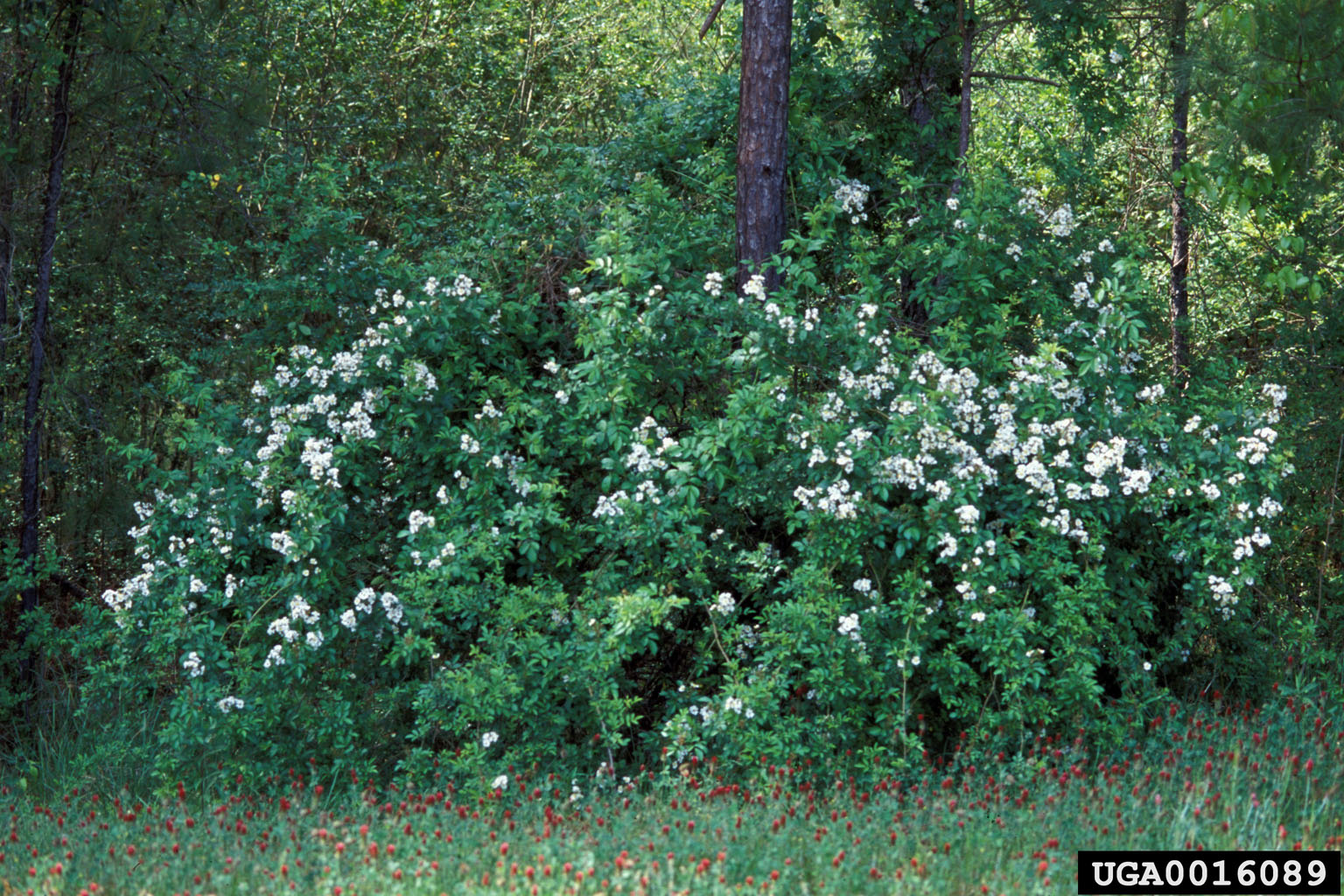 Invasive Brigade
The Closter Nature Center is a magical place loaded with native plants and animals. Unfortunately, we have a problem in our preserve--an invasive species that threatens the health of our forest. Is it a venomous snake? No. Is it a deadly spider? No. It's a rose. Yes, a rose. Multiflora rose was brought to this country from Asia in the late 1800s for use as both an ornamental plant and as a "living fence". Its good looks and usefulness are quickly overshadowed by its ability to take over its habitat. Fields and roadsides are where it is often a big issue but given the right circumstances it can degrade a forest habitat as well.
For about a month in late spring and early summer this invasive is covered with small white roses. Those fruits become rose hips, the seed- bearing fruits of the rose. Some birds are fond of the fruit and spread the seeds. It grows by way of arching canes that are covered with recurved thorns that protect them from herbivores.
Multiflora rose has been spreading here at the Nature Center, and once they grow from individual stems into multi branched shrubs they can be very difficult to remove. Now is our chance! Naturalist Marc Gussen is putting together a squad of volunteers to get to work removing this plant from our forest.
Come join us for a short hike where Marc will explain the issue further, go over techniques for removing it, and then we will roll up our sleeves and get to work!
WHEN: Saturday, January 9th and January 23rd at 1:00 PM
WHERE: Log Cabin by the Pond
Please dress for the weather, and bring gardening gloves and garden clippers if you can.
Contact Marc at mgussen@aol.com with questions or to sign-up.
Let Marc know if you can bring gloves, eye protection, and pruners or loppers, so that we can be sure of having adequate equipment on hand for everyone. Participants must wear a mask during the hike and be at least 13 years of age.
2021-01-23 13:00
2021-01-23 15:00
America/New_York
OPERATION MULTIFLORA ROSE
The Closter Nature Center is a magical place loaded with native plants and animals. Unfortunately, we have a problem in our preserve–an invasive species that threatens the health of our forest. Is it a venomous snake? No. Is it a deadly spider? No. It's a rose. Yes, a rose. Multiflora rose was brought to this […]
mgussen@aol.com
admin@closternaturecenter.org