Closter Nature Center Summer 2023
Summer Program Volunteers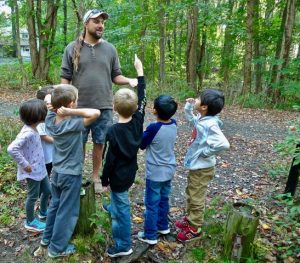 Thank you for your interest in becoming a volunteer for the Closter Nature Center Summer Program! Students age 15 and up can sign up to volunteer full day for any weeks. Students age 13-14 can volunteer with the 4-6 or 7-10 age groups. If you wish to participate in the 11-14 program ($120 wk. members/$150 wk. non-members) you can enroll for the same weeks to coordinate your schedule. We love our volunteers. Sign up today! This year the program begins on June 26th and runs through August 24th, 2023. The program runs Monday – Thursday from 8:45 am – 4:15pm. Week of July 4th the program will run Monday, Wednesday, Thursday, Friday.   In order to be considered for the program, you must be a member of the Closter Nature Center and you will need to complete applications (see links below) that include a Parental Consent Form, a personal essay and recommendation(s).  Please be mindful that there will be a selection process, as we cannot accept every student who applies to the program.                    
Summer Volunteers will be contacted via email to schedule an interview.  All students accepted into the Summer Volunteer Program must attend a mandatory orientation in June.  
To help you with the process, here is a checklist of all the things you need to complete:
Volunteer Application

Parental Consent Form

Student Essay (500-word limit). Use space provided in the application form or send by email to CNCSummer@closternaturecenter.org .
Letter of Recommendation to be emailed by a teacher, counselor, coach or mentor directly to the Closter Nature Center at: CNCSummer@closternaturecenter.org .