Our Mission
Conservation * Education * Recreation 
The Closter Nature Center is a non-profit organization dedicated to the preservation of 136-acres of woods, streams, wetlands and trails in downtown, Closter, New Jersey. Our Board is also dedicated to the idea that hands-on education and enjoyment of our natural world is important and necessary. 
Family Events
Our nature center is the site of ongoing educational programming designed for families to enjoy nature and the out-of-doors. Annual events include the Soup Supper and our Pond Celebration.  
After-School Classes
Our on-site naturalist teaches fun and informative programming for Pre-K all the way through high school. 
Adult Lectures
Topics range from nature photography to mushrooms found in our local areas.
Join us in our Mission
---
Wildlife Preservation
Maintain an area where small, local mammals, birds and plants can thrive.
Environmental Education
A place to learn about the natural world from the very youngest to the oldest local resident.
Recreation
A place where children are encouraged to play and get dirty!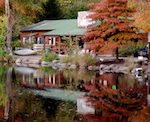 OUR TEAM
MARC GUSSEN
Naturalist Marc Gussen has been living and working at the Closter Nature Center for more than twenty years. Having taught hundreds of children and adults, he is affectionately known as "Nature Marc".
Volunteers 2016-2017
Jason Tong
Sophie Clarke
Wally Chang
Zachary Weiss
Olivia Greco
Derin Ayas
Tanner Marshall
Marin Moore
Shauna McLean
Anthony Corvelli
Gay Mayer